by Simon Leyland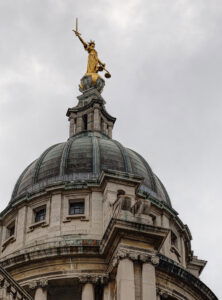 The Old Bailey 20th February 2023
"Ladies and Gentlemen of the jury, before I pass sentence, I wish to allow the prosecution some closing remarks.
May I remind you to be respectful, for this is a Court of Law"
Simon Leyland of Claret and Hugh clears throat, adjusts wig and stands up
"How is David Moyes still working in the top flight? How good is he really? He's managed over 840 games. The only trophy he has won was at Preston in the third tier 23 years ago: 840 odd top-flight games in England and Spain across 20 years and not a single bit of silverware (unless you count the Community Shield) and just one losing appearance in a cup final.
He led Manchester United to what was, at the time, their lowest points total. He managed Real Sociedad for 42 games, won just 12 times and finished 12th before they sacked him early into a new season.
He relegated Sunderland, finishing 20th with just 24 points and an 18% win rate. He's currently got our beloved Hammers in serious relegation bother and only Manchester City, Arsenal, Chelsea and Manchester United have spent more in the last 10 years.
This leaves his spell at Everton from 2002 to 2013 doing most of the reputational heavy lifting. In those 11 seasons, they finished between 4th and 8th nine times. There was also an 11th and a 17th. But more importantly, it started 20 years ago and ended nearly 10 years ago.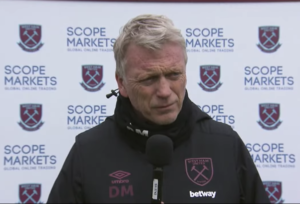 The football world is a very different place now. Very different. Even if he'd won a few cups in that period, it wouldn't be right or fair or helpful to judge Moyes in 2023 on what he achieved in 2002 or even in 2013. But the fact is, he won nothing, zip, nada, , nowt.
He's entered 41 domestic cup competitions and has made one final – with Everton – which they lost 2-1 after taking a first-minute lead (a familiar problem) and made just three semi-finals. That latter stat is probably the most damning.
In eight cup competitions with West Ham he's never beyond the quarter-final. This is fine if you're not managing a club that has spent nearly £400million on players in the last five years, but is poor if you are.
He's played 56 European games across his career and won 32, making one semi-final and one quarter-final. By contrast, Frankfurt boss Oliver Glasner won the Europa League at the first attempt with Eintracht.
He's had two spells in charge of the Irons; since 2017/18 West Ham have finished 13th, 10th, 16th, sixth, seventh and are currently 18th. There are two good finishes there, yes, but the first needs to be set into the context of weird Covid restrictions, when the team seemed to play better when there were no fans present.
The sixth place was a really good performance albeit largely achieved due to the failure of others, specifically Spurs and Arsenal having a bit of a meltdown and finishing seventh and eighth. Even so, some grudging credit is due.
It came as a surprise to me that our ashen faced Supremo is not even 60 yet! but he already looks and acts as if he's in his 70s and reinforcing his fossil-like status from another era to the players.
They must cast an envious glance at other younger, more dynamic, interesting and cool managers like Frank, Howe and Silva doing much better with less money and wonder why they have to put up with the taciturn Scotsman.
So in conclusion M`Lud  – We pay large salaries, so we can attract players, but he patently doesn't know what to do with them. He's won nothing in two decades. And this is particularly damning  – NO-ONE else has ever managed 840  or so top-flight games without winning anything and, just as importantly, hardly ever challenging to win anything.
Even our darling `Arry won the FA Cup when he was manager of Portsmouth"
I rest my case….