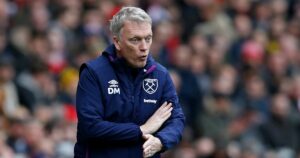 David Moyes has been explaining why he is reluctant to  over use substitutes under the re-written rules of the game this season.
With the Hammers under the cosh against Wolves the Hammers boss chose to make three replacements from the nine allowed – none of whom showed to any real effect.
Manu Lanzini was called on for the hugely ineffective Felipe Anderson whilst both Ryan Fredericks and Andriy Yarmolenko appeared late at a time when the game was basically gone.
The six other options were left to sit out out and Moyes has explained why he didn't use more when questioned by Football: London pal Sam Inkersole.
It was an issue mentioned by another Hammers insider who felt that maybe better use could have been made of the resources available.
Frankly, it's hard to not be a little confused by a response which seems at odds with itself in parts and depends to some extent on his view that nine subs was the wrong option for the Premier League to introduce in the first place.
Moyes said: "I think that we have got substitutes we know that can make the difference but we have other ones we need to play at different moments in the game,
"As you have probably read, I was not in favour of nine substitutes, I had my own reasons and it is wrong to change the rules halfway through the season. 
"We have people coming back from injury that we haven't seen enough, some of them can do with game time if they can get it but in the position we are in, I can just give people opportunities out of the blue. 
"They need to be ready and at the right level as we need to pick up the points."