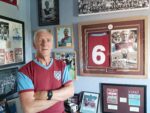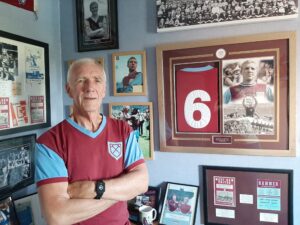 By CandH's top blogger Allen Cummings
All the talk over the last few days has been about our new No7 Gianluca Scamacca – and understandably so.  He's a 'massive' signing for West Ham – in more ways than one.
He's a towering 6'5" striker full of raw strength and aggression – but with a massive eye for goal as his 16 goals in 36 games for Sassuolo in Serie A prove.  He's going to be quite a handful for Premier League defenders and defences during the up-coming season, just  as Michail Antonio has been for the Hammers over the last two seasons.
Ask any defender who has had to face Mickey in full flight and at full throttle and they will tell you just what a formidable opponent he has been.
So with Gianluca now available to take on the role as spearhead of the team, does that mean Antonio will find himself being eased aside?
Well, the task of leading the line as a lone striker will certainly be eased -that's for sure. It's a burden he's carried manfully on those broad shoulders of his for the past two seasons. Mickey's workload has been immense as often he was left to battle alone up top.
Those dodgy hamstrings are well know to us all but last season they stood up to the task carrying him through 45 Premier League and Europa League games without a serious problem – thank goodness it has to be said.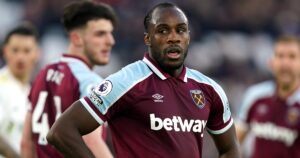 Let's not forget Antonio has never been what you would call a natural goal scorer – but his 22 goals in 71 appearances over the last two campaigns have been invaluable to the team. So have the 15 assists credited to his name over the same period – a stat that often goes unnoticed.
Since his return to the club David Moyes has asked Michail to do a particular job – a role he's undertaken without complaint. Yes, he can be exasperating at times – but he can also be exhilarating, frustrating but formidable – that's the Antonio package in a nutshell.
Gianluca Scamacca may now be seen as instrumental in the long term future of our club – at just 23 he certainly has age on his side, but Michail nine years his senior, isn't about to be confined to the history books just yet – nor should he be.
Moyes knows exactly how much he owes Antonio and it won't be lost on the manager how much Mickey still has to give. We might see him coming off the bench a little bit more as some people have suggested – or maybe as part of a twin spearhead.
We might also see him being used in a different kind of role by the manager. It remains to be seen just what David Moyes has in mind. But whatever that is I fully expect to see Michail Antonio continuing to be a vital cog in this evolving West Ham team.