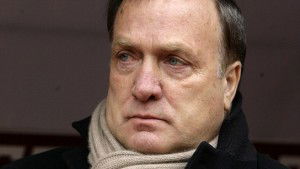 A stray thought hit me as I rose on this bright Easter Monday morning but you will need to wind forward until the end of the season, having kept an eye on events at the Stadium of Light, before considering it over-seriously
Sunderland yesterday scored their first win under caretaker boss Dick Advocaat, just as the Dutchman had predicted and raised themselves to 15th place in the Premier League.
Advocaat has declared emphatically that he will keep Sunderland up and then he's off which given our own managerial situation is interesting.
Now I know he is 67 years old and has managed around 20 international and domestic clubs but yesterday afternoon the old Dutch warhorse had his team rocking against their deadliest enemy on his first match in charge at home.
Having been in charge only a couple of days, he had brought them to Upton Park and was as close as it gets to gaining a draw.
Now he has a run-in which includes Arsenal and Chelsea and Everton (away) to overcome but should he do so – given that he is free at the end of the season – he might be an interesting contender for the Irons.
Things may change and it's more than possible – should they survive – that the Black Cats will offer him a permanent job – but he would none the less be open to offers.
Meanwhile Marcelo Bielsa remains very much on the minds of our board but we were told by a source this morning: "All the balls are still in the air but there's a seriously growing atmosphere now that a change is definitely required."