Hammers United – the driving force behind the protests and hash tag campaign #GSBOUT campaign – are all ready to march in protest again.
They today announced a change of date for the next one and instead of the Sunday game against Manchester United they have chosen to go for what will presumably be the less well populated Brentford match. 
There's no explanation why – nor does there seem to be a reason given in their latest round of publicity as to why they are protesting at all.
Here ClaretandHugh followers give their view on the latest developments. Here are some random comments.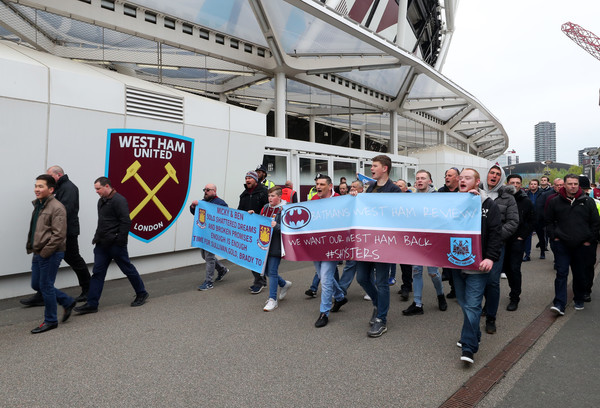 So what exactly are they protesting about?, surely they can remember how close we were to not having a club under our previous owners or are they that blinkered it doesn't fit their rhetoric?.
My view may not be popular but I still thank our current owners for coming in when we were in desperate straits following the Icelander debacle. What these people solely remember is leaving the hallowed Boleyn Ground.
Yes, I was very sad too, but I had to recognise that the club had no way to progress there. I also remember the words of Arsene Wenger – who had a pretty good reputation – when he said that the one thing that scared him was if West Ham got the Olympic Stadium.
We are performing so well on the pitch, we are building a strong squad and we are in Europe. If you protest now, people will take notice and your message will be heard. Sounds like a recipe for keeping the existing set-up to me

.r
So they get a barrage of comments about there protest to the point of having to make a statement that if you don't want a protest don't read their post. But still feel the need to carry on. The minority feeling the need to speak for the majority then.
Empty vessels and all that spring to mind with the protesters
The Chapter of the permanently deluded
Sick of this crap. They're embarrassing us all., kind of, reminds me of the Trump supporters storming The Capitol building, a complete waste of time and energy.
What annoys me is if you read their statement they are suggesting that they are demonstrating on behalf of ALL fans. Small people, small minds.