ClaretandHugh's Sean Whetstone was at the Hammers annual awards dinner on Tuesday evening.
In his final report from the big event of the year he pays tribute to two heroes who made sure that every single fan who needed an autograph got one, not caring how long it took to satisfy the demands.
By Sean Whetstone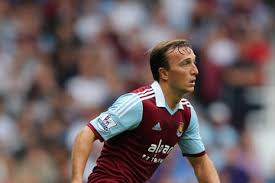 I want to give a mention to double award winner (Hammer of the year and Players player of the year). Mark Noble.
The club loyalist spent over an hour after the event finished making sure each and every fan who wanted an autograph and/or photo got one!
Several fans also called up their mates on their mobiles only to hand it over to Mark to say hello. He had to insist he was the real Mark Noble to disbelieving pals
A prime example why he won these awards, He remains the fans favourite and the main reason why they call him 'Mr West Ham'.
He is one of a kind and a rare example of what being a West Ham player is  all about, 
A special mention must also go to Roger 'The Relegator' Johnson who was also a hit with the fans on the night posing for hundreds of photos.
He showed he is a good sport and has a great sense of humour. I can imagine he is great fun in the dressing room despite what you may think about his footballing ability.