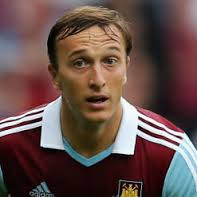 Mark Noble is determined to enjoy this season a whole lot more than last!
The Hammers loyalist was not a happy bunny as the team went through one of it's most wearying campaigns for many years.
And Noble made it clear that he really wasn't in the mood for a repeat of the wors which followed the team virtually all season long.
He said: "I only enjoyed about two months of last season. We were in the bottom three and then put a few results together.
"From 10th downwards everyone was in a scrap — and that's definitely not where we want to be."