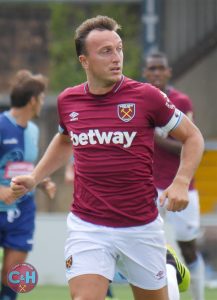 Writing in Evening Standard column Mark Noble says "One of the possibilities, when we return, is that we play some Premier League games behind closed doors.
I wrote in last week's column that I wouldn't ideally want that, but with so much income provided by broadcasters such as Sky, all of whom would televise the matches, if that helps people in the clubs to keep their jobs, I would happily play in an empty stadium."
The skipper also revealed his has donated his fee to Newham Foodbank saying "I'm going to donate the fees for my Evening Standard columns this season to the Newham Foodbank, a fantastic charity helping to feed the most vulnerable and at risk local people in east London. At this difficult time, they need our help more than ever."
The 32-year-old Hammers revealed he has been on the treadmill, running in the local park as well as boxing with his wife Carly and kick about with his son Lenny.
The player urged people to forget our selfish ways and help the elderly, the vulnerable and the sick of our society and help minimise the effects of this illness.
The full article can be read at https://www.standard.co.uk/sport/football/mark-noble-bubble-players-live-burst-forget-selfish-ways-help-everyone-a4393276.html