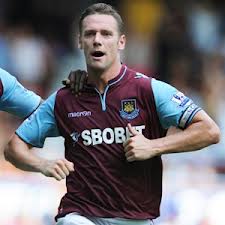 Kevin Nolan is back and I'd hardly be in the minority when saying: "With a great deal to prove as well"
The captain is out on the official site today giving his thoughts on tonight's match and how a great performance can give the team a lift for the more important battles ahead!
Err…well yes!
And in a rather neutral statement about his own situation over the past couple of months I reckon his words leave a fair bit to be desired.
There seems little acceptance of what his behaviour meant to most loyal Hammers when he declares:"From a personal point of view, it's been a tough couple of months as I've said previously, but hopefully now I can put that behind me and concentrate on what's ahead."
It's almost as though the two sending offs which left most of us feeling let down and ashamed were just one of those things – a small problem which made life tough for HIM! Hmmm.
As for tonight's game he adds: "It is one we can go into full-throttle, have a good go and see if we can start building for a tough few months ahead.
"It would be nice to win tonight and start the ball rolling because too many teams have come to the Boleyn this season and got points that they shouldn't have.
"Compared to last season, when we only lost four times here, we don't want to get in the habit of losing home games.
"From now until the end of the season, home and away, we've got to be strong and resolute and make sure that we're together – characteristics we've got in abundance."
Personally I think it's all coming a bit too easy to him. He dismisses two shocking sendings-off as being "tough" for him but it seems he's straight back in the side with the captain's armband despite the shame.
I wonder whether any other player would be treated so leniently – I think not!