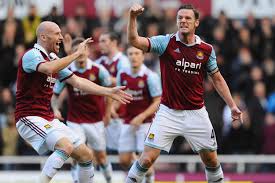 Sam Allardyce's 'First Lieutenant' Kevin Nolan has raised a stern defence of manager Sam Allardyce and believes he will lead the Hammers into Europe.
After days of criticism, Allardyce allies are racing to his cause and Nolan has launched the biggest arguments in his favour yet.
He said: "I'm fed up of trying to tell everyone what a top manager he is, his record is there for all to see and I think he gets unfair criticism. It's hard to win games in the Premier League and he knows how to win games.
"We've got to add to our squad. It's going to be a massive summer for Sam and his backroom staff to renew players' contracts or bring new players in.
"We've got to concentrate on making sure we are in the Premier League next year so he can start planning for getting in the top ten again and start pushing.
"When we get to the Olympic Stadium, given the time and given the resources, he'll make sure we are pushing for European football by the time we get to that Olympic Stadium. I really believe that."