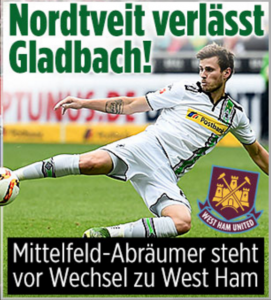 25-year-old Norwegian midfielder Havard Nordtveit has today confirmed he is leaving Borussia Mönchengladbach in the summer when his contract expires. Gladbach have also confirmed that Nordtveit is heading to England.
German newspaper Bild backs rumours in the UK that Nordveit's destination in England is West Ham where he is said to join on a free transfer this summer.
Nordtveit spent three years with Arsenal youth between 2007  and 2010, however, he never made a first team appearance, spending most of his time on loan.
This season Nordtveit has scored four times in 23 Bundesliga matches for Gladbach. However, Nordtveit is more of a defensive midfielder, who, if signed by the Hammers, could  challenge replace Alex Song whose loan expires at the end of this season.
Borussia Dortmund, Schalke,Atletico Madrid and Arsenal were also said to be keen on signing the player.
The midfielder has been rumoured to have signed a pre-contract with the Hammers.