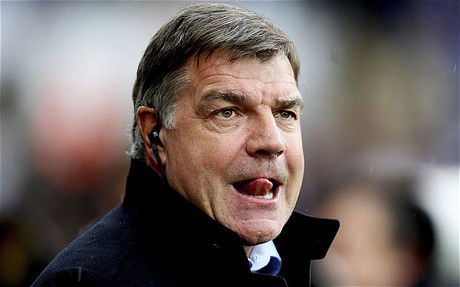 I've needed to write this piece for a long time and although like all of our fans I feel angry, let down and seriously frustrated tonight I'm gonna make sure things are clear on the Sam Allardyce front.
I've become heartily fed up with the word "hate" whether it's applied to Sam or anybody else. If I've been called an "Allardyce hater" once, I've been called it a million times.
I'm not because the simple truth is I don't hate anyone – there's far too much of that stuff around – so let me make my position on the West Ham manager as clear as I possibly can once and for all.
I have always felt that he is a person who has to be judged as at two levels:
1/ Obviously, as a football club manager
2/ As a person, because he has a habit of turning up in virtually any media outlet that asks for an interview and often turns the conversation to himself and his own abilities.
The result of that is that he becomes his own worst enemy because it forces people into making judgments about him and the opinions he appears to hold about himself.
So let's examine Sam the manager first of all. He has been quoted as saying that he wants to win things and that he is now a little fed up with being praised as a good coach without having any trophies in his cupboard.
His survival record is 100 per cent and his achievement in bringing us back from the Championship to establish us as and stabilising us as a middle-ish PL club is  fine. I thank him for it. But more, much more is now required.
I've never been a fan of his more direct style of play which I believe he instinctly favours and which ensured Andy Carroll came to the club.
I'm not a fan – in Carroll's absence – of the weekly default decision of using Cole as a sub whilst ignoring Nene.
Amalfatino appears to have become a full time sub and given both him and the Brazilian are the more creative type of players the distinct impression remains that skill and invention is not a priority.
Thus – as one who watched the free flowing, if sometimes losing football of West Ham teams past – he's never going to be my cup of tea.
Yes the game has changed and not necessarily for the better. Yes, we have to have a harder edge but beyond the odd run from Valencia, when played, there's little of the skill and invention which saw me become an Iron in the first place.
Having said all of that, in bringing us out of the Championship – and not knowing how we could possibly replace Scotty Parker – he brought in Kevin Nolan  who did a great job. That should be remembered.
Since then he has brought us Adrian – so credit where it's due.
Now to Sam the man and this won't take so long. My view is that with London Evening Standard column, regular appearances on Sky Sports, BT Sport and a variety of newspaper interviews he's always in danger of saying far too much.
We had the infamous 'Allerdici' quote, how he wouldn't be out of place at Juventus and the like, interviews in The Newcastle Journal speaking of how he could have gone onto a great club had Freddie Shepherd not left, plus all the England references.
At the end of a desperate last season we were were more or less being told that our survival was something to be celebrated. Celebrate survival? Nah I don't think so.
Ahead of Leicester City we were regaled with stories of how they had to be given respect because they were desperate when I really wanted to read: "They had better watch out – the Irons are coming to get 'em."
We hear refereeing decisions being blamed, injury problems cited as the reason for a poor performance or ten but all of this goes with the territory in this game of ours.Err, it's NORMAL!
It's all too dour, too predictable and too boring Sam! Today when we had virtually everybody back and a goal was ruled out for STOKE yet we were caught and came out with a draw.
The explanation he gave was: "It's bewildering." Hmmm…well thanks for that.
Sam Allardyce? No I'll never really appreciate his football and I find him difficult to warm to as a bloke. But HATE him …not in a million years.
I have never truly seen him as a good fit for West Ham but if – as most expect – he moves on in four or five weeks time I think it will be good for him and us.
Nothing is forever and  everything has to be freshened up. He's done a decent job within limited ambitions.
Now – as we move into a new era – we need to start winning things and I believe given Sam's track record we require  a new manager for both that reason and many others mentioned above.