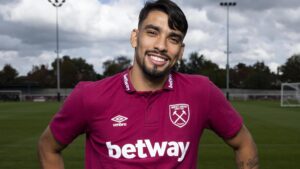 Hammers playmaker Lucas Paqueta is being reported as suffering illness which could keep him out of Brazil's next game in Qatar tomorrow against Switzerland.
Reuters has learned that Paqueta was unable to train fully, which will clearly affect the team selection for the game given he is the team's main creative force.
News of the illness follows the injury he suffered while in action for the Hammers but although details are thin it doesn't sound as though the midfielder is in serious trouble.
That would be the last thing the Hammers require with injury worries starting to plague them following news of Kurt Zouma's injury.
Paqueta's problem is the first to emerge from the competition affecting a Hammer and hopefully the player will recover quickly.
Meanwhile there is no further news on Zouma although as reported earlier the manager is hopeful that he will be available immediately or soon after the break.