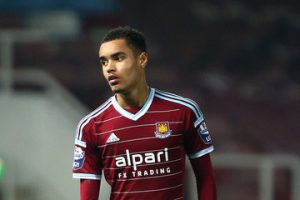 Josh Pask sealed a previous victory for the Under 23s with a third minute winner at Liverpool on Saturday afternoon and with it almost certainly guaranteed another season of Premier League Two Division One football.
The young Hammers hadn't won in four games and were without a clean sheet in three before the trip to the league leaders.
But Pask's winner virtually killed off relegation worries and pushed the team into sixth place.
And afterwards the central defender said: "We hadn't won in a few games so we came into the match really determined to get the points. Maybe  it wasn't our best performance this season but the main thing is that we have won and got the points
"We'll take that all day. On the ball, we've played well this season and today it was a bit different in that they had the ball a bit too, but we stuck in there and held on to get the win.
"It's my second goal of the season and of course I'm delighted with it. To come back from injury and play only my second game and get the winner, obviously that's a great feeling for me.
"I've been out with a hamstring but I'm glad I'm over that now and it was good to get the three points today as well as score the winner. I'll take that."
"It was a massive thing for us, making sure we stayed in the game in the first half. This season, we have gone a goal down too many times and we've always been fighting to get back into it throughout.
"So it was really important for our confidence that we didn't concede first half and then that gave us the belief that we could see the whole game out and win despite scoring just the one.
"With the goal, I tried to play it across goal with the header, and fortunately it bounced back to me off the defender's back, and it was in a good position for me to hit with the left foot on the volley, and I struck it nicely so it was great to see it go in."