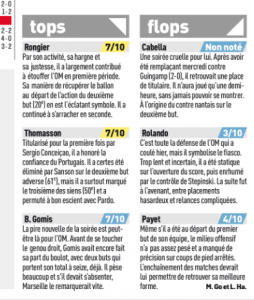 Dimi Payet has been called overweight and unfit in French media since his return to France with some saying he is a shadow of the player they witnessed in the European championships in the summer.
French paper L'Equipe has put the boot in further by labelling him a flop after Marseille lost 3-2 to Nantes last Sunday.
L'Equipe say that even though Payet helped make the first goal, he didn't have enough impact on the match and his set pieces were way off.  They gave him a  low score of 4/10 and listed him of one of three flops in the Marseille team.
Another cartoon in French pokes fun at the French mean suggesting he ate too many puddings at West Ham.    As the saying goes, be careful what you wish for.