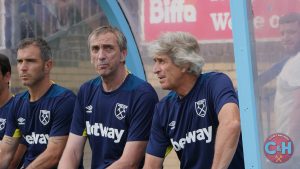 The Hammers are on a roll and the manager is desperate to keep it that way but declares: "Palace is the most difficult game this season…because it is the next one."
Manuel Pellegrini can't forget the early games and clearly believes that has created pressure – the team is on a recovery mission as much as anything else as they bid to grab a hat-trick of wins over a team that could hardly be more out of form.
But expect the manager to preach the same mantra which basically amounts to bot believing you can simply turn up to win against struggling teams.
Instead he regularly reminds the team – along with skipper Mark Noble – that they need to be bang on their game from minute One.
The right attitude could see the Hammers vault into 11th place with both Wolves and Watford facing tricky away games at Newcastle and Everton on Sunday.
Speaking about the Hammers recent improvement he said: "I said before when the results weren't what we expected, that we are improving as a team. We are doing things better. If you are winning in back-to-back games, the trust of the players is bigger. But we cannot stop in this moment. 
"I am happy because we are improving. You must never be 100 per cent happy with the performance because you always need things to improve. We are improving and, I said always since the first game of the season, we are in the correct place to change the style of play. 
"We didn't change because we lost some games. We continued and we are trusting in what we do. The most important thing is the players do it also."
He added: "We were so bad in the beginning of the season with not one point from 12. We must continue trying to recover that bad start from now until the end of the first round. 
"We now have four games, starting this week against Crystal Palace, that we need to add points from."
"As I always say to the players, we need a performance. If we don't have high individual performances then it is very difficult to beat a team. 
"After that, we have to play as a team. Without the ball, try to defend in the correct position, and with the ball try to play and try to score. 
"We have a third challenge at home again, and I hope we can continue in the same way."