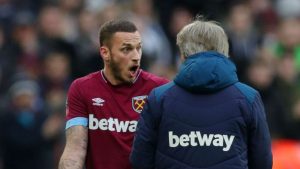 West Ham manager Manuel Pellegrini has said speculation about Marko Arnautovic is all rumours adding a lot of clubs would like him to play for him but there is no news to tell. He added that he is confident that the 29-year-old striker had his head in the right place for this weekend's Premier League match against Arsenal.
Speaking at this lunchtime pre-match press conference at Rush Green Pellegrini told reporters hungry for news on Arnie "They are rumours. We know Marko is a very good player so maybe a lot of clubs will want him to play for their team but at the moment he is a West Ham player and we want to keep him."
"I think Marko and all the other players involved in rumours have their heads here and want to continue playing the way they are doing so far. I am sure his head will be in the game against Arsenal and it will not affect his performance."
Rumours emanating from Head of Talksport Lee Clayton suggested that the club had turned down a £35m bid from an unnamed Chinese club and that the Austrian had been offered personal terms worth up to £400,000 per week to move to Far East.