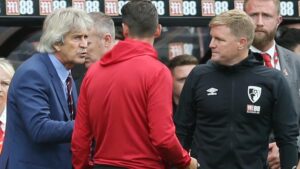 Manuel Pellegrini says he felt the Bournemouth assistant manager Jason Tindall used 'unfair' tactics in an attempt to pressure the referee.
Asked by the BBC why he looked angry at the end of the game when speaking to Cherries manager Eddie Howe Pellegrini explained "Always when you come here the assistant manager tries to pressure the referee. I don't think it is fair for the game, for the league, for the visitor team. Of course, there are two or three times where you have to complain but  as an assistant for the complete game they don't need it as Eddie  has done very good work here, the team play an attacking style which I am fan of, so I don't think they need to do those things"
When asked about the disagreement with Howe in the press conference Pellegrini added "No, [it was] not heated, we were just discussing a few VAR calls. Everyone's got their own different opinions to decisions, so there was no problem."
ClaretandHugh says: Pelle is something of an artist at playing situations down because one look at his face in the picture above – along with his body language caught by TV after the match – possibly demonstrates this was slightly more heated than he may want to admit. The 'Charming Man'label attached to the boss by Manchester City fans during his time at the club is very well earned. However, behind the grace and charm lies a tough footballing brain and attitude. He obviously takes no no nonsense. We have seen it time and again in team selections where his currently his transfer pick, Fabian Balbuena, has been on the the sidelines since the opening game of the season – not a scenario possibly that many bosses would entertain. He had no hesitation in dropping Diop last season for nearly a month towards the end of the season, there has been no automatic way back for Jack Wilshere after injury and Robert Snodgrass and Aaron Cresswell have both felt the effects of his approach. It was good to see him incensed – according to the pictures ad TV coverage anyway – this is no man who doesn't no how to complain and become pro-active when irritated.