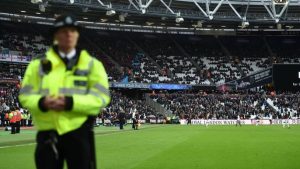 The Met Police have told Newham's Safety Advisory Group that West Ham arrests were down last season at the London Stadium despite the Burnley incident.
In an end of season review over the summer the Met told the SAG they had policed 21 First team fixtures at the London Stadium; 19 in the Premier League and 2 in Cup fixtures of which 12 were CAT A, 8 CAT B and 1 CAT C. The Category C game was Spurs with a different command teams in place.
They said that Police resourcing has been reduced back down to where they were at the Boleyn ground as the risk to the game has dropped.
Arrests at home are down from  from 56 to 32 last season. Of those 32 arrests there have been 18 charges, 3 cautions, 1 community resolution, 5 no further actions and 5 released under investigation.
There were 10 fixtures with no arrests, 8 fixtures with either 1 or 2 arrests, 2 fixtures of which Watford game had 3 arrests and Huddersfield had 5 arrests. The Burnley Game had no arrests on the day with 12 dealt with subsequently
There have been 26 bans from the Burnley game and still waiting for 12 to go through the courts. West Ham  have said that should the police decide not to take further action after the court hearings West Ham will still be issuing them with a football ban
As for Away Arrests of West Ham fans. There were 24 away games with 28 arrests this season
Overall the Police said it had been a good season despite the Burnley game.