Police in Frankfurt have seen their numbers bulked up ahead of the clash between Eintracht and West Ham in the second leg of the Europa League semi-final on Thursday.
Cops in the city are keen to ensure that there is no trouble between both sets of fans, with there having been clashes between the two sides ahead of West Ham's game against Sevilla. Eintracht fans were in Spain to watch their side play Real Betis.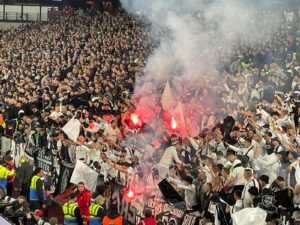 The London Evening Standard reports that Frankfurt's police force are being supported by Scotland Yard as they aim to keep trouble to a minimum.
They quote a spokesman, who spoke to The Telegraph, saying: "We have a very huge concept for the whole game.
"This is not only concerning the stadium but also the whole city — especially the inner city.
"You won't find a street corner on Thursday where you won't see police."
The Irons need to overturn a 2-1 deficit if they are to reach the final after the Bundesliga side managed to win in London.
The winners will play either Rangers or RB Leipzig in the showpiece, with the German team also leading in that game after a 1-0 victory in the first leg.