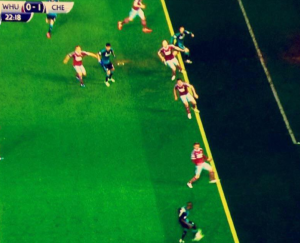 Sam Allardyce claims we could have got something from last night's game against Chelsea if it weren't for match officials getting crucial decisions wrong.
"Some poor officiating on their offside goal, then maybe on another day we might have got a penalty for the Gary Cahill handball [from Nene's late shot], we would have got something." said Allardyce on WHUFC.com.
The image on the right  has been doing the rounds on social media which seems to clearly indicate that Sam is right and the match officials got it horribly wrong with Hazzard offside.
Last week during an 'You Are The Ref' event in central London Sam Allardyce called for a tennis style challenge system which would allow managers to challenge two referee decisions per match.