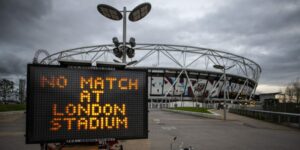 A report in football.london claims that a plan has been hatched to recommence the Premier League season in July.
'They claim the FA, Premier League and English Football League are currently planning to finish the 2019/20 season behind closed doors over a period of four to six weeks starting in July. All emphasis currently is on finishing the season and therefore avoiding the potential ramifications of an unfinished competition, including hundreds of millions of pounds in lost revenue for clubs. With the current lockdown period set to end on April 13, clubs will be hoping that the conditions can be relaxed with players able to return to training.
Fixtures are postponed until at least April 30 at the moment, but the expectation is that there will be further postponements, with issues over insurance and player safety likely to stop any matches taking place until the crisis is over.'
 Claret and Hugh say:
This report sounds a much more sensible idea that the previous claims that the beginning of June was achievable. If this turns out to true and achievable West Ham would be likely to play their remaining nine games by playing two games a week to get the games played in five weeks. There is still a good chance the games could be played behind closed doors.
Players will need to recommence training to get their match fitness before that date.  The Premier League chairmen are due to meet next Friday via video conference call where the latest plan is said to be on the agenda.