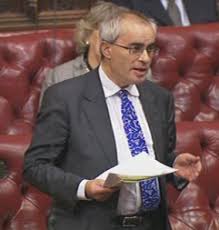 The Irons are this morning (Wed) being as reported ready to bring in one of the country's top QCs as they continue their fight to get Andy Carroll's red card overturned.
Lord Pannick QC (pictured left) has had big experience of sporting cases and Hammers co-owner David Sullivan is reported as  asking  him to examine the  the FA's decision not to rescind his red card on appeal at a hearing yesterday.
The Irons continue  to claim his clash with Chico Flores was accidental and according to The Sun have now asked 'legal heavyweight' to examine the decision.
They quote a source as saying: "If there is a way to challenge this, Lord Pannick will find it."
Ironically, he has acted for the FA in the past, leading their case against Wayne Rooney's agent Paul Stretford. He also represented Chelsea in the tapping-up row over Ashley Cole.
Carroll's ban has come at the worst possible time for West Ham with three crunch matches upcoming.
meanwhile, manager Sam Allardyce said: "To say I'm bitterly disappointed is an understatement.
"I'm going to have to talk to my chairman before I do anything else, I'm that angry."