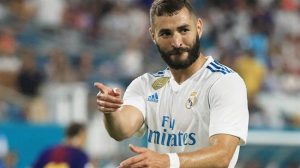 Spanish newspaper Don Balon makes the bizarre claim that West Ham have failed in a 60 million Euro bid for Real Madrid striker Karim Benzema.
The report suggests the 30-year-old has snubbed a move to East London as he waits a long-awaited move to Arsenal. Benzema has netted just five times in La Liga this season in 27 appearances.
A report in rival Spanish media outlet Diario Gol suggests that Real Madrid is willing to part with Benzema, but only for an inflated price of £70m, a sum which far exceeds the £35m which Arsenal are reportedly interested in paying to secure the striker's services.
Since his arrival at Real Madrid in summer 2009, Benzema has been a generally indispensable centre-piece of Los Blancos' attack, providing a direct goal threat with his trademark cool finishing ability, and a knack of bringing out the best in Cristiano Ronaldo and co around him with excellent linkup play.