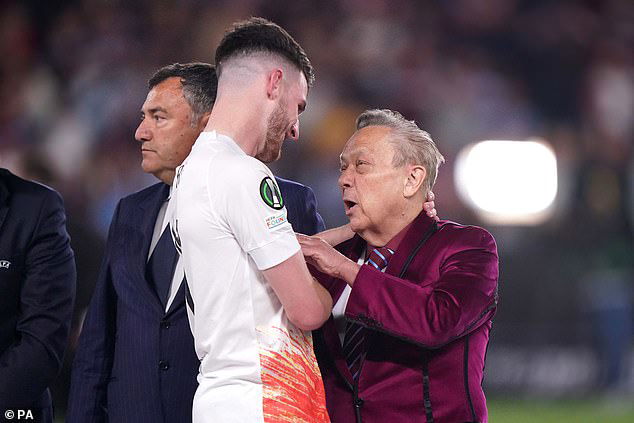 Hopefully another conversation between Declan Rice, David Moyes and David Sullivan is due over the next few days.
Despite the co chair's statement that Dec has played his last game for the Hammers, there's more than an argument for the club's prize asset staying another year.
Of course, right now the Hammers are looking for over £100 million for the captain, that being based on him having two years left at the club.
Leave it another 12 months and it would probably fall to around £60m-£70m but another year in the Europa Cup along with the usual top performances could change that .
David Sullivan is not a man to break the sort of gentlemen's agreement he has with the Declan and his agent/father Sean which allows the player to leave this summer whilst the Dec himself has never looked for more than the £60k a week he is currently earning.
That of course demonstrates this is not a money motivated young man and, although him remaining is unlikely, a conversation would do no harm.
Arsenal's arrival – if that is genuinely where he is headed – is the big problem with them being Champions League contenders but the likelihood of them winning it maybe less so with Manchester City  standing in their way.
It could be argued the Hammers have more chance of winning the Europa and would it be impossible to hike Declan's  wages top closer to £250,000, for say, that one year?
There may still be a few twists and turns in this one with both Man U and City standing by and, should Pep Guardiola's club, come in it will probably be goodbye anyway despite his former Academy Director Terry Westley telling me Dec would sooner stay in London.
Like everybody else I am desperately trying to find a way for the lad to stay and hopefully we are not quite at the end of things.
After all any player who can follow in the footsteps of Bobby Moore and Billy Bonds by hoisting a Hammers trophy is somebody we have to do everything in our power to hold onto for as long as possible.