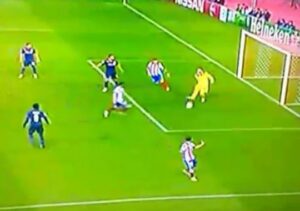 Roberto is not new to press scrutiny on his performances.  Five years ago he was slammed for his performance in the Champions League against Atletico Madrid.
Five years ago to the day the then Olympiakos keeper let in four goals in a Champions League performance that was described as awful.
The Metro reporting on the game at the time said "We have all had bad days at the office but spare a thought for Olympiakos keeper Roberto who has had a total shocker. Indeed the gloves men produced such as awful howler during the Champions League match with Atletic Madrid that people accused him of match-fixing on twitter and the internet"
During the game played on 26th November 2014 Roberto, under pressure in his own penalty area, passed straight to an Atletico player who setup Raul Garcia to score the easiest goal of his life.
Despite this checkered history, Roberto was put forward as West Ham's number one keeper last summer before Fabiaksi was signed.
You can watch a replay of the performance below