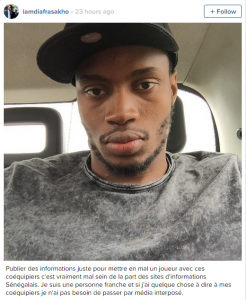 Sakho has hit back at a Senegalese news website who dared to criticise him for suggesting Adrian was a worthy winner of Hammer of the year.
"He has always been great from the very start of the season," Sakho told WHUFC.com afte Adrian missed out on Hammer of the year "As I always say I think he is the one that deserves the trophy of the best player at the club, with all that he's done since the start of the season."
The french language website Sport Senegal covered his website comments saying  "Diafra Sakho contests the vote of supporters. Known for not having his tongue in his pocket, Sakho has once again proved that he did not mince words… Comments that obviously did not fail to offend Aaron Cresswell."
Sakho took to Instragram as his right of reply to put the record straight.
"Post information just to make bad a player with his teammates is really bad on the part of the Senegalese news websites. I am an honest person and if I have something to tell my teammates I did not need to go through media interposes."