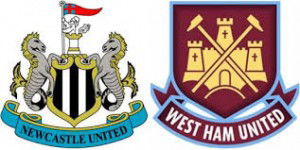 On Monday Newcastle v West Ham was confirmed as one of the live TV matches to be shown on Sunday.
Hull v Manchester United and Chelsea v Sunderland were also confirmed as live games.
Sky have now taken the unusual step of switching their priority between the other two matches.
Originally Hull was named as the featured relegation match, showing live on their main Sky Sports 1 channel, with build-up from 2pm. Newcastle v West Ham were named as the secondary game to be shown on Sky Sports 3, with coverage only starting at 2.55pm, five minutes before kick-off.
Sky have now flipped the coverage and made St. James' Park their featured match.