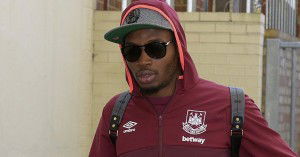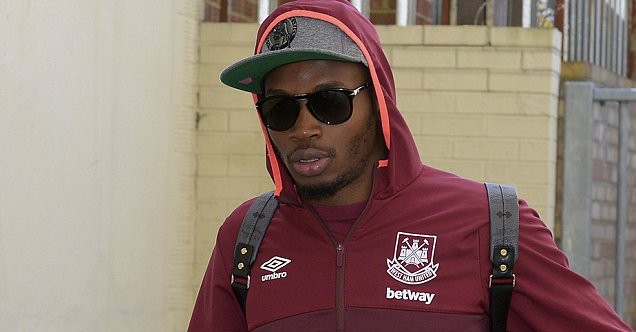 Diafra Sakho has been at the centre  of injury and playing absences via perplexing circumstances for too long.
In this piece, CandH takes a look at the player's trouble-torn history at the club and reveals some startling similarities in his absences, the reasons why and the explanations given for them by him and the club !!!
August 2014 West Ham sign striker Diafra Sakho from French side FC Metz for £3.5m rising to £4.25m with add-ons. His basic wages were just £7,500 per week plus £7,500 per appearance on a four-year contract. His deal specified that his deal would be reviewed after 25 appearances.
The transfer fee could reach £7m if Sakho ever achieves 140 appearances in a West Ham shirt. His number of appearances is currently 51 in all competitions including subitsituations.
In the 2014/2015 season, Sakho made 26 appearances scoring 12 goals. (10 League/2 Cup) 
O Sakho returned from international duty in November with a back and neck injury, which Allardyce said was the result of a "mishap" from the Senegal medical staff.
O December 2014 Sakho received a pay rise to £27,000 per week almost doubling his wages as a reward to his great start in the Premier League. His pay was reviewed after just 9 appearances instead of 25 games specified in his contract.
O First back injury 1st Jan-23 Jan 2015. Out for 22 days missing 5 games.
O Sakho withdraws Africa Nations Cup international duty for Senegal claiming a back injury. Senegal disputes his claims and say he must fly out for medical assessment but West Ham refuse and insist the striker's back injury is genuine.
O At the time assistant manager Neil McDonald said: "We've been in constant contact with the Senegal federation, there's no way he can fly, he's obviously injured and he's going to miss the Africa Nations Cup because of his injury and we're going to miss him because he's injured. We've been respectful, we've given them information and kept in constant contact with them. He's injured. We've asked them to come across and assess him. We've had independent scans done and scans from the club. We're not trying to stop anyone from going to represent their country.'
O West Ham fined £71,000 by FIFA for fielding Diafra Sakho in the FA Cup after claiming he was too injured for International duty.
O Adductor injury 11 April -30 June. Out for 80 days missing 7 games.
In the 2015/2016 season, Sakho made 24 appearances scoring 7 goals (5 league/2 Cup)
O Hamstring injury 3 Dec 2015-1 March 2016. Out for 89 days missing 17 games.
O April 2016 Sakho pulled out of a media event at the club's store at Lakeside shopping centre due to "unforeseen circumstances".
O Days later Sakho allegedly walks out of training after a bust-up with Bilic. David Gold claims he felt unwell while Bilic explains the striker self-reported a small problem with his knee which should only keep him out of action for a week.
In the 2016/2017 season, Sakho has made 4 appearances scoring 1 goal.
O The player claims a sickness bug will prevent him from travelling to Seattle and North Carolina for West Ham's US pre-season tour. He later claims he unable join the Hammers Austria training camp as he is due to see a specialist in France over a back problem.
O June 2016 Sunderland £6m bid for Sakho up front with add-ons of £5m meaning he needed to make 30 appearances a season for three seasons in order for the fee to rise to the reported £11m. With his injury record that was unlikely to happen! Bid rejected.
O July 2016 Sky Sports News reports that Diafra Sakho has handed in a transfer request.
O August 2016 £16m transfer to West Bromwich Albion falls through as he fails medical which claims he would not be match fit for the start of the 2016/2017 season.
O Back Injury 5 July-5 Nov 2016. Out for 123 days missing 17 games.
O Plays for 61 minutes in Spurs on 19th November 2016
O Plays for 66 minutes scoring a goal against Manchester United after 2 minutes on 27th November 2016 Comes off injured.
O Hamstring injury 27th November 20th December 2016. Out for 23 days missing six games.
O Back Injury 21st December to 18th March 2o17. Out for 87 days missing 13 games.
27th March 2017  Head of medical and sports science Stijn Vandenbroucke tells the club website: "We must be mindful that Diaf is essentially at the start of his own personal pre-season. When players return from their off-season, they will go through four to five weeks of pre-season work to build up their strength and fitness and, after undergoing back surgery and three months of rehab, a player needs time to reach sufficient fitness levels before we can contemplate making him available for selection in the Premier League."
O 5th April 2017  Sakho plays 26 mins in Arsenal defeat.
O 14th April 2017 Sakho refuses to travel to Sunderland saying he is injured in a phone call with Bilic after he is told he is on the bench. Bilic plays down reports of a bust-up with the striker saying he has a small knock he picked up in Arsenal match.
O 22nd April 2017 plays 28 mins in the Everton draw at the London Stadium.
O 28th April 2017 Sakho tells Bilic on the phone on day of travel that he has a new back injury and can't travel to Stoke with the first team.
O 1st May 2017 Sent for yet another scan for a self-reported injury on his the other side of his back.