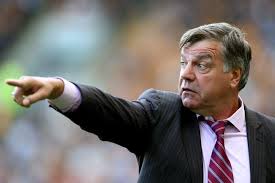 West Ham manager Sam Allardyce is convinced the good times at the club are only just beginning.
But whether the 60 year old is around to enjoy them beyond the end of this season remains a vexed question with his future remaining in the balance.
Allardyce used his 'Manager on Monday' column on www.whufc.com column to declare: " "The club has got a huge potential.
"Moving to the new stadium is one of the best decisions the club has made. It's a crucial step if we want to move on and become a top six side. 
"The new stadium is going to be one of the most iconic stadiums in Europe. We're making strides to be a top team by the time we move to the stadium, so it's a fantastic time for us at the moment."
However, in line with their consistent policy, the board are determined to stick by their decision not to make any decisions until the end of the season and there's a suggestion, that for all the words, the manager himself may not leap into a new contract with the club.
We were told by a very well placed source: "For all the early success, everybody will keep their powder dry on that situation.
"It has to be remembered that if this continues he is bound to attract attention from elsewhere given the brand of football being played.
"He is an ambitious man so it"s no given that he would automatically sign a new deal. It's all a bit early to be discussing things but nobody will be believing there's any serious urgency to look at things before the end of the season.
"At some point, if this continues, pressure could come from the fans to get  a deal sorted out but the board certainly won't be rushed into any decision and the manager will want to look at his options.
"It's very early but one thing is sure – there will be nothing cut and dried about this one. "There's more to this than meets the eye."