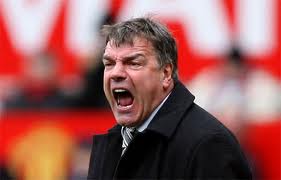 Sam Allardyce clearly has the Boleyn fan reaction very much on his mind at the moment!
After a seriously shoddy performance which allowed  Crystal Palace – of all teams – to complete a double over the the Irons he was quick to play down the response from the terraces.
He said: ""There was no more unhappiness from that fans than I had at Blackburn, Newcastle or Bolton. If you don't win fans don't like it, especially at home."
That one is a little difficult to comprehend to be honest after a defeat by a team totally rejuvenated by manager Tony Pulis.
Turning to the game itself the manager pointed the finger at Pablo Armero for conceding a "stupid penalty."
He said:"It was a stupid penalty conceded by Pablo Armero for the winning goal. Setting out your plans is all very well, but you cannot make allowances for that.
"He didn't need to make that challenge and Crystal Palace are set out to take advantage when you make a mistake like that. We put every effort in but could not put the ball into the back of the net.
"We had to take chances when they came our way and in that department we failed miserably today.