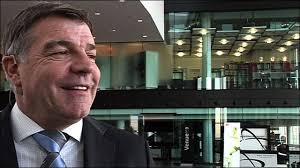 West Ham boss Sam Allardyce – having seemingly started a long goodbye from Upton Park – has taken time out to defend his record at the club.
Sam is very much a 'Marmite Man' – you either do or you don't – but the guy himself has no doubts that he has done a great job with us.
It is a fact that with his deal ending at the end of the season the club are lcompiling a list of possible replacements with one source telling ClaretandHugh last night  "It's time for a change. Everything moves on…we need a different brand of football."
But as the clouds hover around him the 60 year old spoke with justified pride about his three-and-a-half-years in charge,
And when asked if he ACTUALLY wants to stay he said: "I've never said I didn't want to stay here. We've made good progress.
"Look back at what the club were when I got here. Look back at 2011 and you can say we have since forged a structure at the football club that is hopefully going to breed success.
"We've managed to put in an infrastructure that has grown the club from where it was when I came in until, at this moment in time, a top-half Premier League club in my fourth season."
Tomnorrow he meets Spurs – a  team the Hammers beat three times last season following last weekend's devastating FA Cup shocker at West Bromwich Albion.