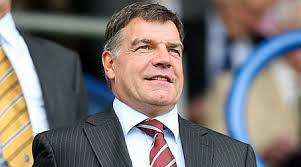 Chuffed Sam Alladyce was pleased to be getting cheers rather than jeers after what is now widely seen as the Sunderland survival victory at the Stadium of Light.
The Hamers boss said:  "We have sent all the West Ham fans, staff and the players home happy because we're all delighted after getting a well-earned victory at the Stadium of Light," said Big Sam.
"I think that our start was critical to the final result. The quality of the ball into the box made all the difference because it saw the best of Andy Carroll and he got the first goal with the header.
"There was a spell when we didn't pass the ball as we'd have liked so we had to soak up a bit of pressure, but when we got the passing right, we were going from one end of the pitch to the other and really causing Sunderland lots of problems.
"The goal after half-time was again at a critical time and Sunderland really ran out of ideas and we were controlling the game. I was really hoping Stewart was going to get off the mark with his one-on-one but unfortunately their keeper made a brilliant save. That would have been 3-0 and the game dead and buried.
"Then, lo and behold, you can never relax in the Premier League because it will kick you if you're not careful. They got the goal which lifted them and there was a bit of desperate defending at times which needed to be had which we did brilliantly and we got an outstanding victory.
"That's 37 points now, which is only one point behind our total from last year when we had 38. This time we've got 37 so it hasn't been quite as bad as it's been made out to be!"