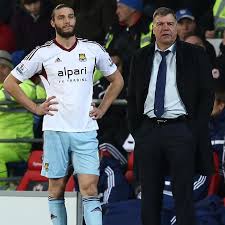 Andy Carroll has been handed a MINIMUM 12 goal target for next season by Sam Allardyce
And the Irons manager believes it will have hurt the £16 million striker being left in a World Cup wilderness this summer.
The 25 year old Geordie was on standby for the Brazil-bound England squad and was then snapped with his girlfriend and her pals in Las Vegas.
Allardyce said: "It will have hurt Andy not being out in Brazil.
"And if he has any burning ambition — both at club level and internationally to get to the European Championship in 2016 — he'll use this experience to go forwards.
"What he needs to do now is to establish himself as a high-quality Premier League striker and to give me 30-plus games and 12-15 goals minimum next season.
"There is a place for him in the England squad. There is no other player like him. He's compared to Rickie Lambert but they're not the same.
"Rickie drops off, out of the box, and goes deep.Andy is a threat in and around the penalty area with his head and his feet as he has good technique.
"The other thing Andy has in his favour is his relatively young age. For both the seasons we have had Andy, it has not been fantastic and he needs to change that.
"He got the injury and then we had the misdiagnosis on it and that meant a long spell out.
"When he first came we saw the best of him with a good run of goals in the last few matches. Now we want that consistently.
"I've seen the pictures of him with his girlfriend in OK! magazine, doing Yoga on the beach.
"She is obviously someone who likes to keep herself in good shape and has a good influence on Andy.
"That can only be a good thing. None of the pictures we've seen of him show him with a bottle in his hand — do they?"
Carroll habeen on the fringes of Roy Hodgson's squad in recent seasons and wil start his new club (and country ) bid against Spurs next season.
It will be former White Hart Lane favourite Teddy Sheringham 's first opportunity to impact as the new attacking coach.
Allardyce said: "I think Teddy will give us a fresh pair of eyes and try to get a few more goals out of our forwards.
"We lacked goals last season, but another six or seven would have given us a top-10 finish, maybe.
"I was at Millwall when Teddy started out — a fact not many people remember. He'll be good for us