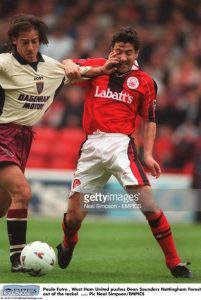 Dean Saunders has slammed West Ham owners for his perceived treatment of Slaven Bilic.
Speaking on BBC TV Sport, Saunders said of Bilic "I think he has been treated awfully and it has undermined him and some of the bad results they have got have been down to the way he has been treated.
I heard at the start of the season that there was a shortlist drawn up for his job while he is still in the job. If that was me as a manager and I heard they were looking at other managers whilst I was still in the job I would resign,
I am totally undermined, I am going into a dressing room trying to manage a group of players and there are voices at West Ham from all angles. One of the owners has tweeted after the Leicester game, I want to apologise for that result.
It is not your place to apologise, it is the manager's job to comment on the team, you just run the club!"
Dean Saunders has some pretty harsh words for the West Ham owners #WHUFC pic.twitter.com/guNdUQkqOD

— BBC Sport (@BBCSport) April 22, 2017