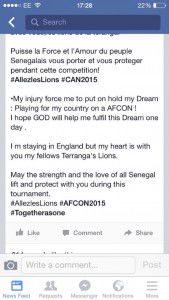 The row being kicked up by the Senegal Federation over Diafra Sakho's is probably hirting the player an awful lot more than West Ham United !
The boy has already used his facebook page to explain how he feels about his injury and is still having to listen to his country's top officials claiming he may be faking it.
For their benefit alone we have no problem in publishing Diafra's feelings on the injury in which his agony at missing the African Nations Cup is clear.
We would suggest two things to the Senegal Federation having listened to him say for example: "My injury force me to but on hold my dream."
Grow up …then SHUT UP!