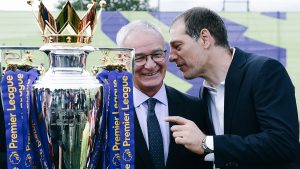 Slaven Bilic has made it clear he will be more than happy to sign a new one year rolling contract once the offer comes in the summer.
Most managers want far more than that in order to ensure a pay off against failure but speaking in his presser ahead of the Chelsea game he made it clear that's not an issue with him.
Discussing the news that was broken first on CandH yesterday that a year's deal is now on the table he said: "I have a contract at the moment and I am very happy here. There's one and a half years left on it.
"The length of contract makes little difference. Whether it's a one and half year or  four and half year deal – it  doesn't matter because look what happened to Ranieri.
"If there was one manager at the start of season you wouldn't have believed would get the chop it would have been him. Ask anyone in football that question and it would be Ranieri, Ranier he's ok.
"I am very happy with the approach to my situation but I don't think about it that much!"