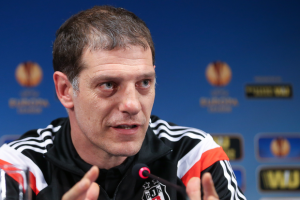 Slaven Bilic has revealed that playing in the English Premier League has affected his entire lifestyle.
The West Ham boss – in a revealing interview with www.fourfourtwo.com – declared: "I'm very pleased to have played 
in the Premier League. It helped me not only in football terms, but also 
in other aspects of life.
"I spent my most important time there, and the experience had a huge impact on me as a player and a manager. 
I learned to work hard, how to be professional, how to approach everything with a bit of humour… 
it affected my management style, 
of course, but more importantly 
it helped me to form my lifestyle.
And as a Roman Catholic – like Jose Mourinho – he added: "
I'll always be grateful to God for giving me such an opportunity.
"Every day you are improving, learning 
– in training, by watching games, 
by reading books or just by talking with your staff and players. You're changing but also improving. Every single second, I try to change and improve."