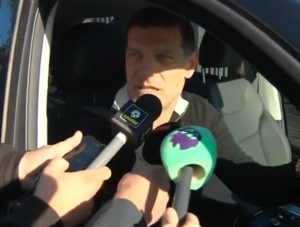 Former West Ham manager Slaven Bilic told reporters waiting outside Rush Green there were "There are no hard feelings. I am going to be, especially when some time goes by, very proud of my work here.
"We didn't start this crucial season well. We had a really good, or great, or very good first season, then the second season we knew was going to be a difficult one in a transition to move to the new stadium and all the difficulties we had.
"We coped with that at the end really good, finished middle of the table, but then this season we hoped we could make that step from the start and we just didn't make it – as in many clubs in the Premier League and across Europe the manager is the one who pays the price.

"You are always hoping, and you believe in yourself, that you can turn it around and do it, but that doesn't mean I don't understand the move the club has made. It is a very logical move.
"The fans were brilliant with me from the start until the very end, and I really felt it. It's not just words. For me, this was more than a job, it was personal because of my relationship with the club, one I played for.
"They came here for my first game, a team from Andorra, and made a full house. You have to respect that and nothing will change that memory for me."