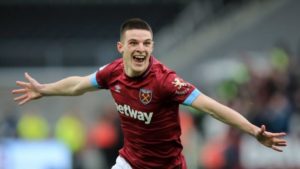 Declan Rice has recently said that he still cracks a smile every time that he is brought up when it comes to the individual play against Arsenal. West Ham's incredibly talented young star was in amazing form against the Gunners back in January, making it a very good day for the youngster after he sent home the only goal of the game.
Rice has spoken about his goal and the celebration after the game, Rice spoke to West Ham TV saying he'll never forget the match.
"I think you can see in the celebration how much it meant to me!" the 20-year-old smiled. "I wanted to jump in with the fans, to be honest, because they're the ones who support me every week and show me the love but I would have got a yellow card, so I didn't do that!
"It was a special moment. The place erupted and I still smile about it to this day."
It wasn't just his goal, it was Samir Nasri who passed Rice the ball to create his first goal as a senior and participating in winning against the Gunners. As well as the shot he was also an incredible defensive help with two tackles, two clearances, three interceptions and a blocked shot while also almost gaining 100% pass rate with 36 of his 42 passing attempts being successful.