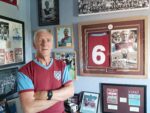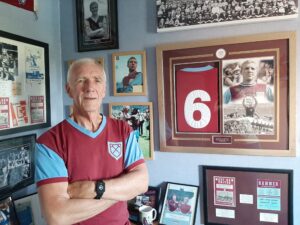 By CandH's top blogger Allen Cummings
When Hughie asked me to select my personal Top Ten Hammers I was more than happy to oblige. It was like being offered a free trip down Memory Lane, recalling some of the fantastic players I've had the pleasure of watching in my many years of supporting The Hammers.
THey were not only  West Ham greats but they were greats of English football.. As a club, despite all the moans and groans, we have been blessed over the years to have enjoyed so many outstanding players.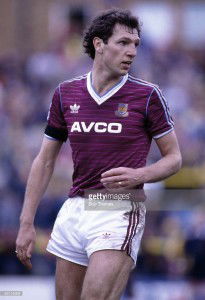 But even with some true footballing greats amongst our ranks, West Ham have always been – well West Ham! Brilliant one minute – unecognisable the next. We've enjoyed tremendous highs and depressing lows. It's in our DNA. It's why some of us older supporters adopt a more 'relaxed' approach when times seem bad and the team disappoints. We've been there before – it's the West Ham Way!
Compiling my top ten made me realise just how many other memorable players I had to leave out! Players who could easily have been included – and probably might be included – in other supporters' selections.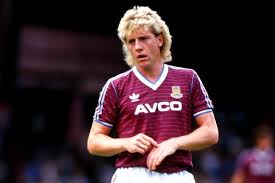 Goalkeepers like Jim Standen, Ludek Miklosko and the giant Phil Parkes.  Full backs such as John Bond, Frank Lampard Snr, Julian Dicks and the unforgettable Ray 'Tonker' Stewart. Defenders such as Alvin Martin, Tommy Taylor and Tony Gale. Midfield players like Ronnie 'Ticker' Boyce, Phil Woosnam, Alan Dickens and John Moncur. Forwards such as John Sissons, David Cross, Paul Goddard, Bryan 'Pop' Robson and the incomparable Frank McAvennie.
So many top players who have helped in their own way to make our club what it is. It's probably no coincidence that all the players I have mentioned are from before the introduction of the Premier League.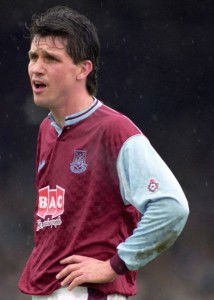 Suddenly that, and the money it generated, changed the face of football. The big clubs grew ever bigger, money became the driving force, and with very few exceptions players came and went with increasingly regularity, here for one or two good seasons before moving on.
Never staying long enough, for me at least, to consider them amongst the West Ham greats! But that's the way it is today – and like it or not we have to live with that.