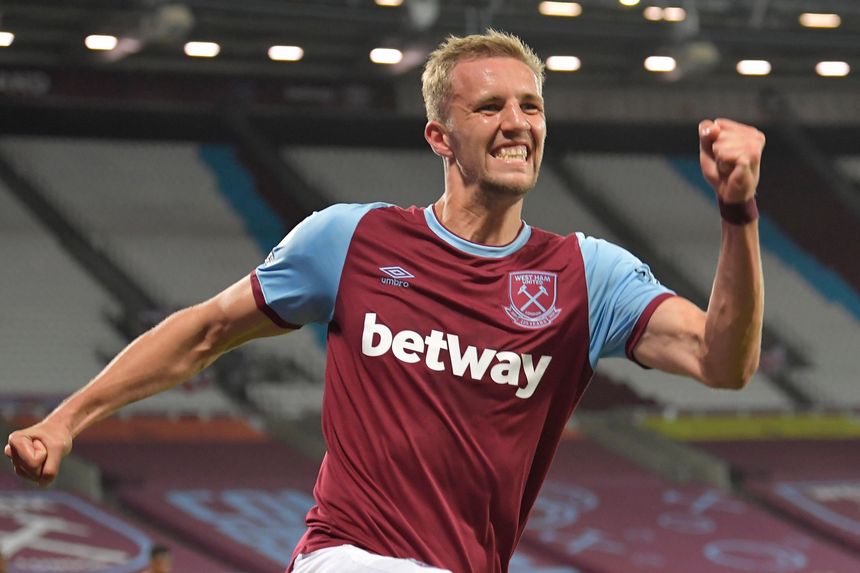 Tomas Soucek will be looking for revenge for a deeply disappointing defeat when the Hammers travel to Manchester for tomorrow night's EFL Cup game.
Shopuld he be selected he will be playing his 103rd game in the various competitions with which hes been involved in two and a bit seasons.
Whether the Hammer of last year is a part of things remains to be seen as the general feeling appears to be that the Czech midfielder is looking a little leg weary given such cicumstances.
But one thing is for sure the guy will be well and truly up for selection along with Vladi Coufal who did so well against Ronaldo on Sunday.
And Soucek is already making it clear that the Irons have the perfect opportunity to show exactly what they are made of when they face the Reds for the second time in four days.
I would personally expect him to be on the sidelines along possibly with his Czech team mate whilst Declan can again expect to be involved.
However, Tomas will give it his best of course should the boss decide to call him uop for his 78th game since February 2020!
After Synday's game he said: "We're disappointed because for a long time the result was on our side or on the balance, and now we're disappointed that we lost the game because I think that we deserved at least the point.
"We know that when we are playing against Manchester United everyone has to give maximum effort. We want to beat them, so our quality and concentration has to be on 100 percent, and I think it was that way on the pitch but it was a shame about the result in the end.
"The fans were brilliant. We know how they supported us from the start and we can feel that on the pitch. It's only a shame that we lost today but they were incredible and I hope that they will support us many times in the future like they did today."