Gareth Southggate is delighted to see Declan Rice and the Irons in a top League position knowing how much it helps his England set up.
De2clan has performed admirably for England even when the Hammers were struggling towards the bottom of the Premier league.
The Three Lions boss is a huge admirer of our regular skipper describing him as a fantastic player to work with.
His performances this season – as last have been right out of the top drawer and although we are not going to see him in action against major team over the next fortnight we can be assured that he will be playing to his full strengths regardless.
Southgate is pleased we are competing at the top of the League knowing it can only help England's aspirations.
And dicussing Dec he said: "It's great to see him in a team who are in a different position in the league because I think you want your players to be involved in matches where they are pushing for Europe or pushing in the cups, because the more different experiences they have the better.
"So, if his club can qualify for Europe and he is involved in European competition then that's another step in his individual development that he hasn't had yet at club level.
"He's fantastic player to work with and he really wants to learn and to improve. To be captain of his club at such a young age tells you all you need to know really about his personality and his character."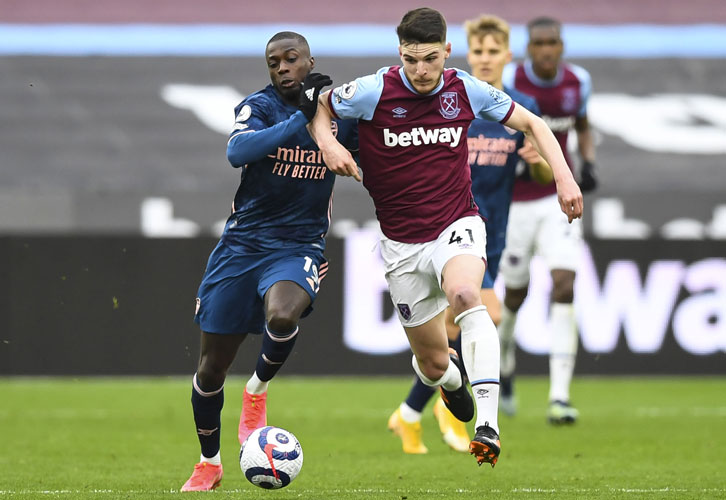 It is not only Rice's character that has impressed Southgate, but also his all-round ability.
There was evidence of Rice's growing confidence on the ball in Sunday's 3-3 Premier League draw with Arsenal, particularly when he collected it inside his own half and drove 50 yards down the pitch before testing Bernd Leno with a well-struck shot.
Southgate added: "He's outstanding at recovering balls in midfield. I think there are only a couple higher in the league in terms of recoveries in those midfield areas.
"I think there is still more to come with the ball, that building of attacks, that receiving from defence and transferring the ball quickly forward. We see evidence of it and we see at times he has the athleticism to drive forward with the ball as well.
"So, I think those are the things we want to see more of, but he is also a very young player so, in terms of running the biggest games in a Euros, that's of course going to be a huge challenge when you look at just our group opponents.
"In the first game, it'll be Modrić, Kovačić, Brozović and Rakitić, all outstanding players, but we've been able to get him some good experience in the semi-finals of the Nations League against the Dutch, which would have been the biggest game he'd ever played in.
"He's played some good qualifiers for us now as well, so we're building those experiences with him and he's been a very important player for us over the last couple of years."