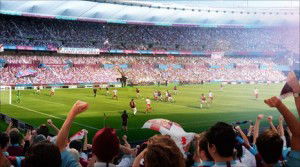 Tottenham Hotspurs hopes of ground-sharing the Olympic Stadium with the Irons are thin – at best!
Fresh fears that the north Londoners could look to get involved in such a plan emerged today when it became clear they were going to have to leave white Hart Lane for a season whilst their new ground was built.
Stories that Spurs might ground share with West Ham in the Olympic Stadium for one season seem wide of the mark. The same argument that existed for Leyton Orient and Barry Hearn applies to Spurs and Levy.
However, when West Ham Vice Chairman Karren Brady was asked about ground sharing before the House of Lords select committee last year she appeared to rule it out.
She said: "There is no precedent for ground-sharing. There is an understanding that every football club has to have supremacy of fixtures to be able to fulfill its obligation to its league. Having two football clubs that have that priority would be difficult."
While West Ham signed up to a teaming agreement as part of its bid the fact remains it has anchor concessionaire winter rights and priority at the OS. UK Athletics enjoy the summer anchor tenant rights and priority.
When the stadium operator is announced that anyone including Spurs could in theory book the Stadium in the same way you book a village hall, it's another level again to guarantee  full Premier League fixture list for a second Premier League club.
Much more likely is for Spurs to ground share with the England football team at Wembley in North London although Levy might not be keen on paying the FA's high rent.
One option put forward online was for Spurs to rotate between multiple stadiums with Wembley, the Olympic Stadium and Stadium MK within the mix among others. This would leave Spurs as nomads with no permanent home stadium for one season.
I am told this s would be difficult  as Premier League rules say changes of stadium during a season must be agreed in writing.