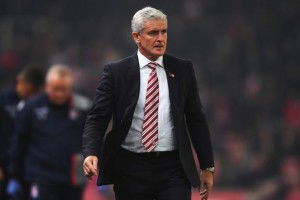 Here we are on matchday and still talking about the issues that have bedevilled the London Stadium.
This time it's Mark Hughes claiming he thinks Stoke are "quite comfortable" with the arrangements being made as police prepare to enter the stadium for the first time.
The visitors had expressed concerns over the security immediately following the Chelsea game and Hughes said:  "They are addressing concerns we have had. I think they are doing things a little bit differently.
"There will be more of a police presence in the ground to begin with, and more segregation, so I think we're quite comfortable."
Stoke chairman Peter Coates added: "I'm obviously hoping it will be a trouble-free game. We will certainly do all that we can and I'm sure the same goes for West Ham."
The day after the Chelsea match a statement from the London Stadium Partners read: "West Ham United and London Stadium are finalising the identification of 200 individuals who will receive stadium bans having been involved in incidents of disorder."
But yesterday West Ham refused to reveal how many banning orders had been issued amid fears those fans can return today.
Police are inside the stadium despite the required radio system not becoming operational until February.