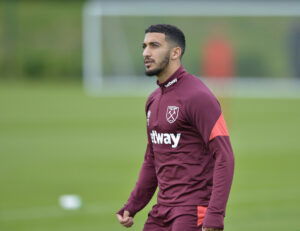 Said Benrahma was an 84th minute sub for Algerian as the their African Cup of Nations tournament started  with a goalless against unfancies Sierra Leone in Group E.
Benhrahma arrived six minutes from the end and spurned a great chance to get the team  off to a winning start by skewing a shot wide in front of goal..
The Hammers playmaker, despite only featuring for the final six minutes of the match, was heavily involved in the closing exchanges, winning a free-kick wide before watching his shot go wide seconds after arriving.
The 26-year-old also had an attempted shot blocked three minutes into added-time, as Algeria pressed to claim what was expected to be a straightforward victory for the reigning Africa Cup Of Nations holders.
Instead they face a battle as Benrahma – gained his 16th cap for Algeria, and  will be hopinmhg fpr making appearances in the coming contests with Equatorial Guinea and the Ivory Coast on Sunday and next Thursday.