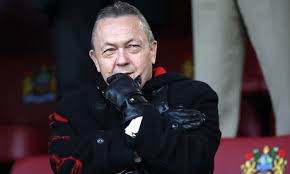 David Sullivan has today made it clear that every West Ham fan needs to get behind the team!
In his first public statement since the team was booed off against Hull City the co-chairman declared:  "Everyone should have been happy after that match because the three points were so vital but it was a strange game, some bizarre goals and then the booing at the end.
"We all know the team can play a lot better than they did on that night and everyone was frustrated, the team, the supporters and myself.
"I know exactly how the fans felt but it is so important they get behind the players.
"There is a perception out there that we are so good under lights but the reality is that, before the win over Hull, our only other floodlit League victory since we took over the club four years ago was Norwich in February."
There has been speculation that Allardyce's position is at risk and a change could be made this summer.
Sullivan refused to comment directly on that but added: "We always have a post-season review. We look at the season in detail and make a decision about what players we need.
"We can't make definite plans until we are mathematically safe but I would say to the supporters that we intend to make at least three signings this  summer, up to a maximum of five."
Allardyce, meanwhile,  has accepted that he has no chance of winning over all the Upton Park fans.
He said: "In many peoples' eyes I will never be the flavour of the month but it's very nice when you get support because it allows you to get on with your job and not be distracted.
The chairman  normally tells me if any agent or press have rung him about someone who would like my job, so I have never had any fears that way.
The owners have always backed me ever since I've been here and I do appreciate that."