Matt Taylor may be rising 33 years of age but he's still got an eye on, and hoping to play, in Europe.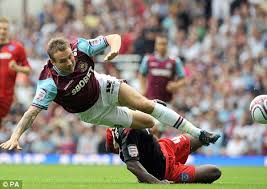 The subject arises as a result of the 1-0 defeat at Everton who are 17 points clear of the Hammers four places beneath them in tenth.
 Taylor said: "I think we know and Everton have shown in the past that they are in a group of teams that are challenging for Europe, but we want to be there ourselves.
"I don't think the gap is as big as you might suggest. You can argue there is a bigger one between them and the top four, I don't know.
"The league has shown this year that anyone can beat anybody, so I don't think there is as big a gap as some may think."
He added: "We are still in a positive position in the league and though it is frustrating that we don't play this weekend, we now have to make sure we are right to go to Stoke City, because they have just got a great result against Arsenal and it is going to be another difficult away fixture.
"We need to pick ourselves up from the Everton defeat. There are 10 games left before the end of the season and we need to get as many results as we can to make sure we cement our place in the top half.