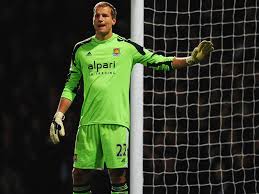 Look no further than Jussi Jaaskalainen for the model professional!
The Finn may have been well and truly usurped as the No 1 goalkeeping choice to brilliant Adrian but you won't find this man sulking in the corner.
There may be big doubts over his Boleyn future future but all the while he's a part of things he will play his full part.
And speaking to the official site he made his approach to the job clear declaring:  "I have been fortunate enough to play for many years in the Premier League and at the start of this season, so when you lose your place there is no point in sulking.
"I am just trying to work as hard as I can and to support Adrian in every possible way. As I said, it's about how we finish the season as a team, not as individuals.
"It's a big team and hopefully, if I get one more chance, I will try to to grab it and keep the shirt as long as I can.
"That's why I keep working hard, because you never know what is happening in the future in football."
There really is no "I" in the word team as far as JJ is concerned!