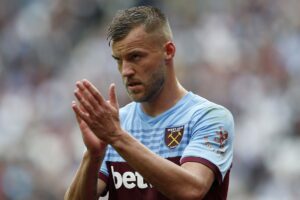 Blog by Sean Whetstone
Andriy Yarmolenko has averaged 0.32 goals per 90 minutes this season, more than any other West Ham player.
He has only just returned from a long term injury but he has proved he can be a match-winner before and should be given a chance again to prove himself. Yarmolenko has turned out to be a bit of a Marmite figure at West Ham with some not rating him while others like myself prepared to give him the benefit of the doubt.
Moyes bought on him for just nine minutes against Wolves but he had precious little time to make an impact with West Ham already one-nil down. If I was David Moyes I would be sorely tempted to start him against Chelsea next Wednesday to allow him to put his mark on the game.
I believe he can still re-find his form he displayed including two goals against Everton last season and goals against Norwich, Manchester United and Bournemouth.
We need someone who can score goals and Yarmolenko could be our unsung hero!